Shopping and Sales
80 Best Websites to Buy Children's Clothing
March 09, 2021
Every parent knows that children grow fast (too fast, actually!), and they outgrow everything pretty quickly. Raising kids is an expensive endeavor, and clothing may be one of the expenses which add up over the years. On the one hand, we want them to look nice, but on the other, children often outgrow their clothes within a single season. Where is the balance? One solution might be to split their wardrobe into two categories. You can buy them some high-quality garments for special occasions, like holidays, or fancy dinners out (if you go out with them). Most of the time, they can wear cheaper everyday clothing for school and other daily activities.
Shopping between higher-end and budget-friendly retailers allows you to spend more wisely. With such strategic shopping, your offspring will come well enough on every occasion, and you will not break the bank. Fortunately, shopping for children's clothing does not need to be distressful. But you need to know where to shop.
Clothing is much cheaper in the United States than almost anywhere else in the world, and children's clothing is no exception. Always a good idea to get on the internet and shop some US online stores. And get them delivered by Shipping Storm whenever in the world you might live. As a reminder, Shipping Storm is located in Oregon, so you will pay no Sales tax, no matter what state the store is located in. Here are our top picks for US online stores where you will get great deals, good quality on children's clothing. Some are a bargain, some luxurious, many offering good deals whatever your style and budget are. To be fair, we feature them in alphabetical order.
6PM.com
The 6PM.com is an outlet venue for Zappos, the shoes online megastore, now owned by Amazon. The 6PM.com sells what Zappos does, but everything here is sold at a nice discount as its Outlet. Although the selection in styles and sizes is not as great as in the flagship Zappos store, it is well worth checking out. You will find brand-name clothing, shoes, and accessories at a price that won't break the bank.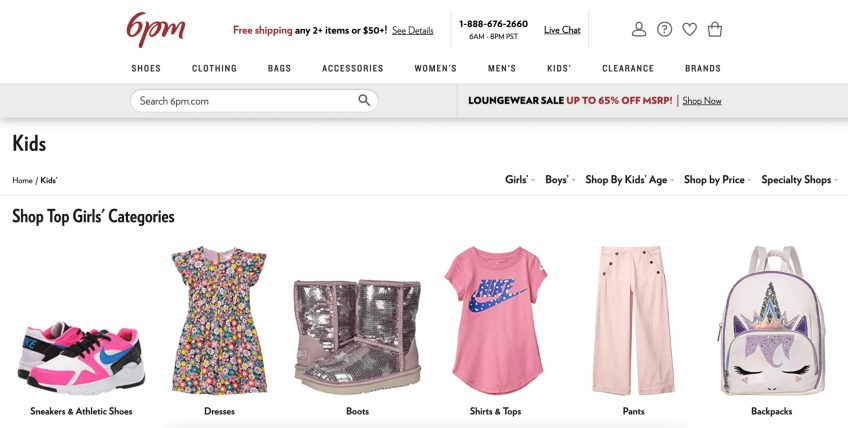 Abercrombie & Fitch
https://www.abercrombie.com/shop/us/kids
Abercrombie & Fitch, the American iconic casual wear retailer, is known mostly for posh teen and young adult clothes, their Moose logo, and racy photography. But they make clothing for kids too, starting with US size 5. Of course, posh ones. The concept is designed as the kid's version of adult Abercrombie & Fitch clothes. Prices are relatively high, but your kid will surely stand out. It's also one of the oldest clothing companies in the USA. The company was founded in 1892. Their children's clothing brand called Abercrombie Kids was introduced in 1998.
Amazon.com
You already know Amazon is selling almost anything. Still, Amazon may not be your first thought when it comes to shopping for kids' clothing. But it may be worth checking Amazon out. You might be surprised how many styles, how many brand names, and great deals you can find on Amazon.
Art and Eden
Art and Eden is another great place to shop for Earth-friendly items. Everything is organic, eco-friendly, and ethically made. Their modern designs are also super fun and bold. According to their Facebook, "Art and Eden is a sustainable children's clothing line committed to being best in the world - one step, one product, and one community at a time. Art and Eden make clothes that are better for people and better for the planet. Our promise to you is transparency. We believe in your right to know what your children's clothes are made of, how they're produced, and where your money goes when you buy them."
Baby Noomie
With its easy-to-browse, user-friendly website structure, and adorable clothing, Baby Noomie is an excellent shop mainly for little babies' sleepwear – footies, gowns, rompers, bibs, and hats. You can also buy girl's dresses for up to 12 years.
Belk
https://www.belk.com/kids/baby-clothing/
Apparel for babies, toddlers, kids, and teens up to 20 years, Belk sells everything. Belk also has an enormous selection of characters from movies and games, pretty much anything you can think of from Disney, Pixar or Marvel and more - Star Wars, Despicable Me, Super Mario, Toy Story, Batman, Black Panther, Curious George, Dr. Seuss, Frozen, Barbie, Fortnite, Guardians of the Galaxy, Harry Potter, Iron Man, Jurassic World, Mickey Mouse, Moana, Monsters inc., Paw Patrol, SpongeBob, Peter Pan, Pokemon, Scooby-Doo, Spider-Man, Thor, Transformers, Wonder Woman and many more.
Boden
Boden is a British Company that has long been part of the Ethical Trading Initiative and ethically and sustainably sourced materials. You can read more about it on their website. Boden features upscale kids' clothing that's so adorable, and it will make you swoon. Boden features timeless, detail-orientated designs inspired by British style and heritage. Family photo coming up? This is a great place to start. This is one of our favorite brands to buy when you want a style for your kids. The quality of Boden clothing is impeccable; the pieces last long and are super trendy. Your kid will be not just stylish; you can save it as a hand-me-down for their younger siblings or any of your friend's kids. Boden's clothes start from size 0 and go up to 14 years old. If mom and dad would like to browse for themselves, they are in luck; Boden also produces beautiful clothes for adults. Give it a try, buy a couple of pieces, you will not be disappointed. Boden may not be priced for everyday shopping, but f you're looking for a splurge or willing to wait for a sale, you should not regret it. How about kids' surf suits with UPF 40-plus sun protection?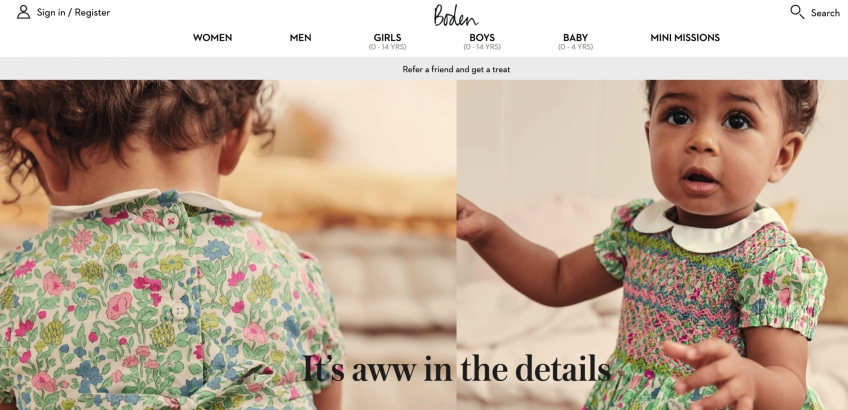 Bonpoint
French fashion house Bonpoint maintains its chic reputation with typically unique and well-made tailoring, its sweet "Bonpoint Cherry" logo, and its famous Bonpoint Perfume. Shop the most beautiful pieces from the brand: from little girls' Bonpoint dresses to coats and baby pajamas. The Bonpoint brand, founded in 1975, represents 40 years of French 'savoir-faire' and creativity in children's fashion. Bonpoint embodies French elegance, positioned between tradition and modernity, sophistication and humor. Bonpoint is the brand for newborn to 12-year-old that parents are smitten with. Since 1975, Bonpoint has been a "French fashion house for children." A brand like no other and a "Made in France" success story that's an absolute wardrobe must-have.
For its founder, Marie-France Cohen, and the current Artistic Director, Anne Valérie Hash, Bonpoint is much more than just a brand. It's a lifestyle that is passed on from generation to generation. "For many of our customers, Bonpoint represents a cherished childhood memory that they want to pass on to their children," affirms Christine Innamorato. Resolutely bourgeois boho, the Bonpoint style is centered around a look that's "neither bland nor fashion victim," continues the Artistic Director. From its newborn collection to its range for babies and girls' and boys' lines, each Bonpoint piece is injected with French know-how, designed in an atelier, and meticulously crafted.
Each season is segmented in line with the brand's luxury codes. Bonpoint is the primary collection with spring-summer, and autumn-winter catwalk shows that feature in Vogue. Also on offer are a Bonpoint Cruise collection, Pre-Fall line, Bonpoint Christmas clothing range, and a recent addition, the Bonpoint Couture line.
In addition to signature Bonpoint pieces, such as dresses, jumpers, coats, or pajamas for babies, the clothing label offers a full brand experience with "Eau de Bonpoint," its famous orange blossom perfume, as well as a skincare range for children and adults, YAM, the Bonpoint clothing line for teens, a women's clothing collection and, coming soon, a bedding collection.
Very Important Kids: The mini-me fashion championed by Bonpoint has had mums and fashion editors swooning for over 40 years now. Through Angelina Jolie, Claudia Schiffer, and Michelle Obama, fans from Victoria Beckham to Katie Holmes buy Bonpoint for their kids. They have all succumbed to the French Bonpoint charm, dressing their little girls and boys in this unique, chic clothing.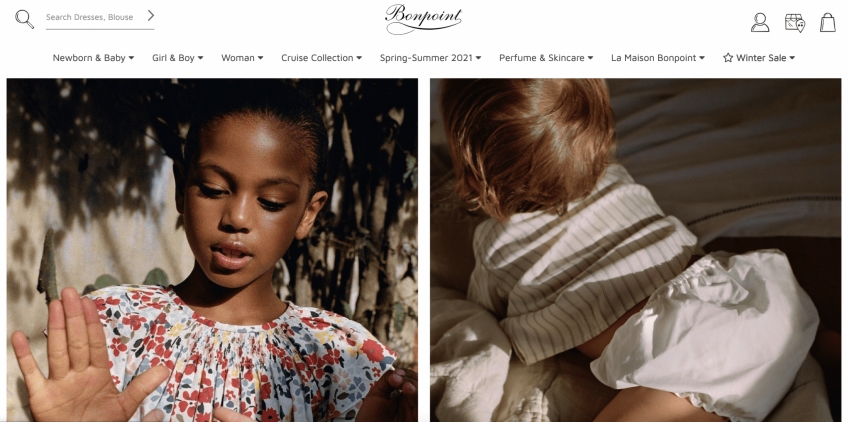 Burt's Bees Baby
https://www.burtsbeesbaby.com/
Burt's Bees might be best known for its personal care products made from beeswax. Today, the company sells 100% organic cotton children's clothing and accessories, helping you nurture your children. Burt's Bees Baby has a beautiful website with a clean, user-friendly design, where shopping is a delightful experience. Burt's Bees Baby offers clothing for babies up to 7 years of age, and all of it is made from ultra-soft, organic cotton. Plus, it's an excellent place to look for matching family jammies when it comes to holiday time.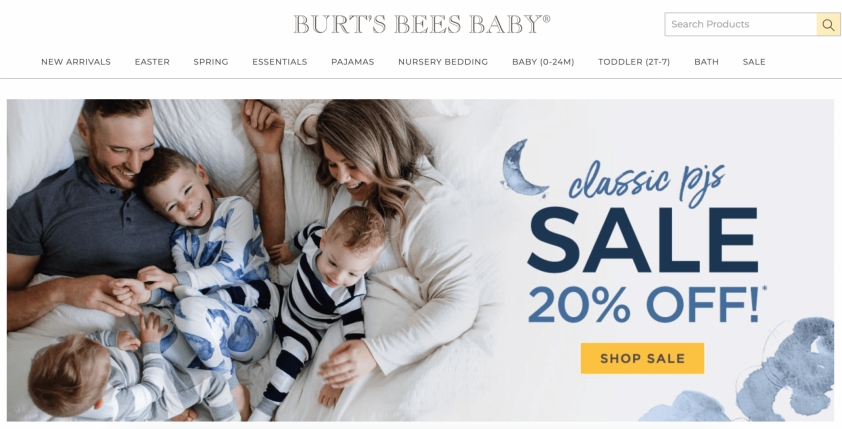 buybuy BABY
The buybuy BABY website offers a wide selection of pretty much everything you may need for your little baby, from Preemie to 4T. From feeding to bedding and bathing, travel accessories to furniture, buybuy BABY has it all. Here you will find brands like Adidas, Nike, Under Armour, Gerber, Hudson Baby, KicKee Pants, The Honest Company, Touched by Nature, and many more. Need clothes for a special occasion like Birthday, Thanksgiving, Christmas, or even Christening and Baptism? Look no further.
Carter's
Carter's has been traditionally one of the biggest names when it comes to children's clothing. In recent years, Carter's accounted for around one-quarter of all US sales for the children's sleepwear market and clothes for the newborn to two-year-old age group. It's also one of the oldest clothing companies in America– Carter's was founded in 1865!
Today, Carter's is an affordable place to shop for just about anything for your offspring. At Carter's, you find cute fashion in sizes from Preemie up to 14 years old. They offer clothing for every Holiday and season. Carter's also featuring popular characters and sport; NFL, NBA, and NBL leagues, plus themes like hobbies, travel, transportation, or nature. Carter's website is clean and easy to navigate through it, so you will enjoy shopping there.
The Children's Place
https://www.childrensplace.com/
The Children's Place is another giant in children's clothing, with about 2 billion USD in sales. Perhaps certain items can be a bit pricy if they're not on sale. Still, with a variety of styles and ongoing sales, at the Children's Place, you will find a deal on items such as school uniforms, rompers, extended sizes, shoes, NFL sportswear, and much more! The Children's Place website is filled with bright, colorful clothes in every size, color, and trend-setting style. Tops, shorts, pants, jeans, dresses...it's all there, plus all those cute accessories. When on clearance, you can find jeans for $9.99 or graphic tees for as little as $4.99.

Chasing Fireflies
https://www.chasing-fireflies.com/
Chasing Fireflies is a children's boutique clothing, costume, and toys store with such an imagination! The Chasing Fireflies brand is all about fun, from unique kids' Halloween costumes and dress-up to everyday outfits. Chasing Fireflies website is filled with creative ways to express the holidays and tons of ideas for pretend to play your kids will love.
Chasing Fireflies offers perhaps the best collection of holidays and special occasion outfits. Costumes for every occasion you may think of; weddings, communion, St. Patrick Day, 4 of July, Christmas and Valentine's Day, Day of the Dead, Cowboys, and Cowgirls, Princesses and Knights, Pirates, Zombies, Cheerleaders, Witches, Dinos and Dragons, Aliens and Astronauts, Mermaids and Sea Creatures, and much more. TV & Movies characters from Star Wars, Frozen, Shrek, Mandalorian, and Descendants, including Batman, Superman, Cinderella, Catwoman, Wonder Woman, Spider-Man, Iron Man, Captain America, Willy Wonka, or Trolls. What's the best, many outfits are for adults, too, so the whole family can have fun.

Columbia Sportswear
https://www.columbia.com/kids-clothing/
We have to admit; we are fond of Columbia. And not only because they are from Portland, Oregon, just like us. Columbia is the right choice for outdoorsy people; they offer affordable, time-proven quality and materials tested in expeditions in the least hospitable places on this planet. Today, Columbia Sportswear makes its functional clothing for adults and kids in sizes from toddlers up. Whether you want your children to do sports activities like hiking, skiing, or snowboarding, or you just want them to wear comfortable all seasons and all-weather outerwear, Columbia will not let you down, rain or shine.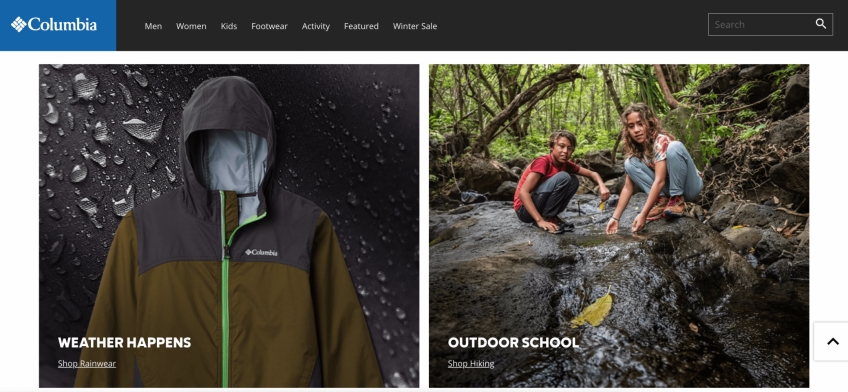 Cookie's Kids
Cookies Kids is another children's clothing department store. They have mainly an incredible selection of school uniforms. Still, they also sell dress wear, outerwear, dancewear, sleepwear, and swimwear from many well-known brands, including Nautica, Levi's, Timberland, US Polo, Puma, London Fog, and Carter's, at deeply discounted prices. Their selection may not be great, but you can often get some real steals if you check their website for kids' clothes in all sizes, including an infant.
Disney
Disney online store is… well, all about Disney. You will find other franchises here; however, Pixar, Marvel, Star Wars, and National Geographic are all here under one roof. Hulk, Black Widow, Captain America, Black Panther, and literally hundreds of other characters, this is the place you'll find them all! The Magic happens here at Disney.

eBay
Well, eBay sells pretty much everything, so children's clothing is no exception. No matter whether you're looking for newborn baby clothes, big kids' clothing, accessories, or something in-between, eBays got it all.
Etsy
Etsy will probably come to your mind when you think about artisan, handmade items like jewelry or home goods. But if you want unique clothing, you cannot buy it anywhere else, and likely you will not see it on another child, ever, Etsy might be the right place for you. Plus, supporting small handmade businesses (who also often are moms!) is a great place to spend your money. Navigating Etsy might be a bit of a challenge, but browsing night is fun, too.
FabKids
The FabKid is a membership site. For $39.95 a month, FabKids promises up to a 40% discount or "buy one, get one free" deals on "limited-edition monthly collections with outfits and shoes curated just for your kid." At the start, you may fill in a short quiz to personalize the site to your style and preferences. Then you can shop every month or just skip while your membership fee counts against your purchases. If you skip the shopping, your money accumulates on your account for future purchases.
Feltman Brothers
The Feltman Brothers offer genuinely unique, vintage-inspired, and classic baby clothes, special occasion wear, gifts, and accessories for your newborn, infant and toddler, since 1916. There are themed "Collections" to shop by. Want to have a little sailor at home? Then check their Navy or Nautical Collection. Feel more like Royalty? See Royal collection. Bouquet, Bunny, Heirloom, Secret Garden Collections, and more absolutely unique styles you indeed won't find anywhere else!
Finn & Emma
According to their Facebook page, Finn and Emma sell modern and organic baby and toddler clothing, toys, accessories, and gifts. Finn and Emma offer fresh prints, trendy colors, and heirloom-quality construction with a balance of stylish and sustainable, whimsical and sophisticated, classic and contemporary. This is where boring designs and toxic chemicals are a thing of the past. Adorable, wearable, remarkable organic cotton is abundant! Fine 100% organic cotton, eco-friendly dyes, and all-natural wood will do for your little munchkin, and Finn and Emma got plenty. And on top of that, their outfits are produced in fair trade settings that focus on social and economic independence for local makers, mainly women working to provide for their families.
Forever 21
Forever 21 may be best known for its trendy clothes and low pricing. The company sells accessories, beauty products, home goods, and clothing for women, men, and children. Here is a catch – when we talk about children, we think Girls Only! Yes, they do not sell apparel for boys, just girls. From size 5 and up, Forever 21 offers on-trend fashion, cozy wear to school, playground, or play date.
GAP
Shop GapKids for clothes that are fun, modern, comfortable, and made to last. At their children's line, GapKids, you'll find versatile kids' clothing for playtime, school time, and special occasions. The GAP's website feels very similar to Old Navy's. GAP offers slightly better quality and higher price tags. If you enjoy dressing your child in mini-me size clothing that is on-trend and not too cutesy, Gap is for you.
Gap offers everyday basics. They often offer sales and a well-stocked clearance section which can allow you to stock up at an affordable price. Their clothes are timeless and adorable, which can be hard to do in the baby department. Apart from their iconic GAP hoodies, here you'll find other solid-color staples of an active kid's wardrobe: T-shirts, sweaters, shorts, or sweatpants. Gap, too offers favorite children's characters from Disney, Marvel, Star Wars, and more.
GAP Factory
Gap Factory is Gap's online Outlet, which can also be accessed directly from the main Gap website. Their brick-and-mortar version you will find in every Outlet Mall in the whole United States. The word Outlet might imply that the merchandise sold here is regular GAP stuff sold in traditional stores. They now offer it at the "Outlet" store for sale because they did not sell it in "regular" stores. It is not. Like most other clothing brands, GAP makes different stuff for their "regular" stores and then lines specifically for its Outlet stores. Those have lower quality than regular apparel made for "normal" GAP stores. But as we said, if you insist on GAP, this may be an option for you.
Giggle
According to Giggle's Facebook page, they offer children's basics with a twist: high-quality, stylish, comfortable garments made to take kids from school to playtime to bedtime and beyond. Our unique designs inspire a confident, cool-kid vibe that's easy, playful, and totally fun! This store sells their own Giggle brand, as well as other small brands. The Blueberry Hill – knitted sweaters, bonnets, and mittens to keep your little one warm. Splendid – infant and toddler tees, sets, dresses, and rompers. Appaman – basics plus jackets or coats. Roller Rabbit, Lean and Rae, Little Moon Society, Lucky Jade, Mini Rodini, Noe and Zoe, Baby Clic, and many more. Apart from kids' apparel, you will also toys, books, games, gifts, and nursery items.
Gymboree
https://www.gymboree.com/us/home
Gymboree is one of the more expensive websites on our list. While their stuff is pricier, the clothing is high quality, made to last, so Gymboree is well worth checking out. Look for their sales and clearance items to save some bugs. Gymboree is also one of our favorite stores to shop clearance stuff for next season. Just buy clearance clothing now a size or two up for your child to wear it next year. Gymboree offers themed collections you likely won't find anywhere else; Little Leprechaun, Little Ladybug, Future Astronaut, or Pretty Peach are just a few to name here.
Hanes
After we survive our kids' diaper years, nothing about underwear should be hard. With Hanes's extensive selection, Mom's most challenging question is, Boxers or briefs? Comfortably fit is what's Hanes's underwear about. Hanes Boys' and Girls' undies are made with our premium cotton and feature comfort waistbands, no ride-up leg bands, and tag-free labels. But Hanes is not just underwear. When it comes to finding modern, comfortable, and durable kids' clothing, Hanes is another place to go. Hanes kids' activewear includes durable, cotton-rich fabrics, with reinforced stitching and wicking technology to keep kids dry and ready for more - from pullovers and hoodies to performance tees and shorts.
Hanna Anderson
https://www.hannaandersson.com/
Kids just want to be comfy, and Hanna Andersson gets that. The brand's clothing is high quality, comfortable, and built with hand-me-down quality. Hanna Anderson maybe is known mostly for its Pajamas and matching pajama sets for the whole family. Still, this company is more than just sleepwear. Do you want hand-me-down clothing? This is your brand.
Like Burt's Bees Baby, Hanna Anderson uses organic cotton for long-lasting softness, durability, and quality. Even after 100+ washes, it will stay in shape and not shrink when running through the dryer. We sometimes think it gets softer with each wash. My child has pants, jackets, T-Shirts, Sweaters, and pajamas from Hanna Anderson, and I never had a piece rip or tear. Even the knees seem to not think out while crawling over the floor. In addition to their own patterns, you will find clothes with characters from Disney, Pixar, Marvel, Dr. Seuss, and Curious George, in sizes from baby up to size 18.
Plus, Hanna Anderson helps children in need, so you can feel good about spending your money there. The prices are e a bit higher, but those tights are nearly as tough as jeans. Why would you spend money on pants, anyway, when your daughter insists on wearing a skirt every day?
Hope & Henry
From their Facebook bio: "Hope & Henry was born from the belief that beautiful, high-quality, organic clothing can be affordable for all without sacrificing the well-being of our people and our planet. Our hope is to leave the Earth a little better than we found it, which is why we use certified organic cotton. But we're not just eco-friendly; we're people-friendly too. We value each person who has a hand in making our garments, so we decided to share our profits with the talented women and men who sew our clothes and bring our vision to life. At Hope and Henry, we want you to love your clothes. And when you do, that love gets sent right back out into the world." So, check it out for yourself. All shipping on orders shipped to US addresses is free.
Hopscotch
https://www.hopscotchkids.com/
Hopscotch online store sells several hundreds of well and lesser-known kids' clothing brands from tiny preemie sizes. You can search your child's outfits based on the occasion, such as casual wear, party wear, or even dancewear. The website offers various filters, such as age, brand, color, price, or discount. Hopscotch also sells shoes, toys, children's books, and accessories.
H&M
Priced similarly to Old Navy, H&M's is one of the most affordable children's clothing brands available. H&M, which stands for Hennes & Maurit, is the second-largest global clothing retailer, surpassed only by Zara. H&M offers cute and affordable fashion and is a no-brainer when scoring affordable finds that don't skimp on style. When you want to buy fashionable finds without breaking the bank, definitely give H&M a try. The Swedish brand is known for its bright colors, soft fabrics, and trendy finds like slogan tees and snapback caps. You will find baby, toddler, kids, and tween sizes on clothing, accessories, and home products.
J.Crew
The company claims that Crewcuts is your home base for the very best kids' clothes on the planet. Whether you agree or not, Crewcuts, J.Crew's children's line, has just about every kind of clothes in styles you might be pleased to wear yourself. They have another line: everything you love about J.Crew – only smaller. We agree with that.
Consider J. Crew Factory for timeless pieces for your little ones. These are items that will stand the test of time, allowing you to use again or pass on to a friend. Simple and stylish, you can't go wrong here. With their classic designs, this is an excellent place for photo-worthy clothes, whether you are doing a memorable family photoshoot or just want your kiddos to look great in your everyday pictures. Or perhaps you are going somewhere kind of dressy. Pull out one of these pieces. You'll reach the J.Crew factory store at https://factory.jcrew.com/kids.
Janie & Jack
Janie and Jack offer classic, designer children's clothing in rich fabric, design, and detail. Janie & Jack is excellent for every occasion when you want your children to look sharp. It's never too early to teach kids about simple sophistication. With polished styles that offer a modern take on classic staples, Janie and Jack make it easy. Janie & Jack is an iconic design house specializing in modern takes on timeless styles - playful patterns, bright accents, and lots of matching accessories. Available in sizes from newborn babies up to 16 years, Janie & Jack offers all sorts of clothing, as well as shoes, swimwear, and accessories.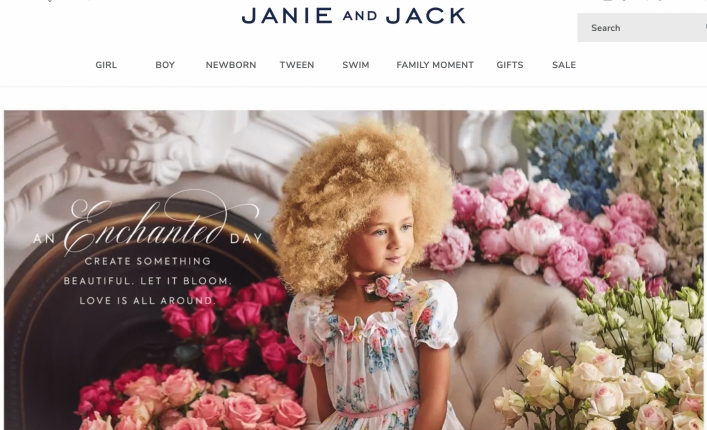 JCPenney
JCPenney is one of the major US department stores. They often have great deals, including deals on kids' clothing, accessories, and shoes. When you take advantage of their sales, coupons, and red zone clearance deals, JCPenney is hard to beat!
Joules
Joules is another example of an online clothing store that sells kids and baby clothes and adult clothing. The attractive layout featuring boys' and girls' collections features excellent photos and an option to filter by size, color, and price, making it fun to buy Joules' clothing. Here you can buy girls' and boys' clothes from 1 year to 12 years.
June & January
https://www.juneandjanuary.com/
In their own words, June and January believe that kids are fun, and their clothes should be, too! June & January offers clothing basics in bright and bold patterns and colors. They carry baby, toddler, and kids sizes in rompers, dresses, tees, pants, cardigans, pajamas, and accessories, including party stuff and games. As long as you're ready to spend a little extra, this website will not disappoint you. In case you care, June and January is Women-owned and operated business.
Kohl's
Kohl's, one of the biggest American discount department stores, offers a decent selection from major brand names in kids' clothing, including Levi's, Carter's, Columbia, or The Children's Place. All at fantastic prices. Add their weekly sales, "percent off" coupons, and Kohl's cash to the mix, and you get the perfect place to shop for your kid's clothing any season.
Le Petit Kids
Le Petit Kids has been a kids' fashion boutique for over a decade now. The website uses minimalism to focus on the product. It offers sophisticated filters for browsing kid's clothing in a more concise way. Nothing distracting here - only the things you need to know. Le Petit Kids has a store specializing in European, mostly French and Italian, designers you probably won't find anywhere else, in sizes from newborn to teens.
Kid-approved clothing, European style, and comfort combined with trendy look. Le Petit Kids features more than 50 European brands, including MOLO, Catimini, Kenzo, Tartine et Chocolate, Paul Smith, Paz, Karl Lagerfeld, Hugo Boss, Chloe, Huxbaby, Boboli, Confetti, Jean Bourget, Beckaro, Patachou, T-Love, Gaultier, Marc Jacobs, or Moschino.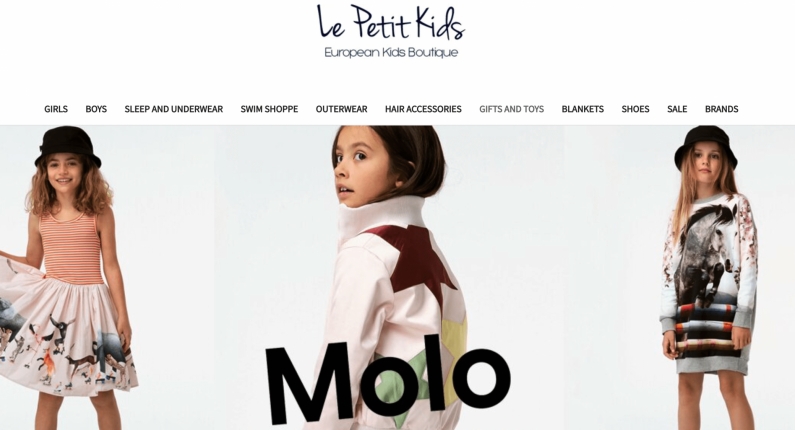 Livly
Livly makes high-quality baby clothing made from ultra-soft Pima cotton, perfect for infants' delicate skin. Livly offers everything from babywear, casual, playful jerseys for your kids' everyday wardrobe and elegant signature coat dresses to cashmere-blend cardigans. Livly is known for its detailed garments with rich, colorful blends and playful prints. Livly comes in sizes from 0 to 12 years.
Macy's
Macy's, founded in 1858, is one of the oldest American department stores and perhaps the most famous one. Of course, they sell baby and children's clothes, too, in all sizes from newborn to 20 years old. With sales and coupons Macy's offers frequently, prices can be really friendly. Only at Macy's you can shop their own children's clothing line - Epic Threads.
Maisonette
Ever wish there was such thing as a kids' boutique? There is, and it's called Maisonette—your destination for trendy, high-end finds for the kids. The Maisonette is your one-stop-shop for luxury brands, and one-of-a-kind finds alike, making it easier than ever to build a tasteful wardrobe for your little one. Planning some special occasions, or when you just want to get something extra nice? Then Maisonette might be your store of choice. Maisonette sells children's clothes from hip luxury brands. It was started by an ex-Vogue staffer, after all.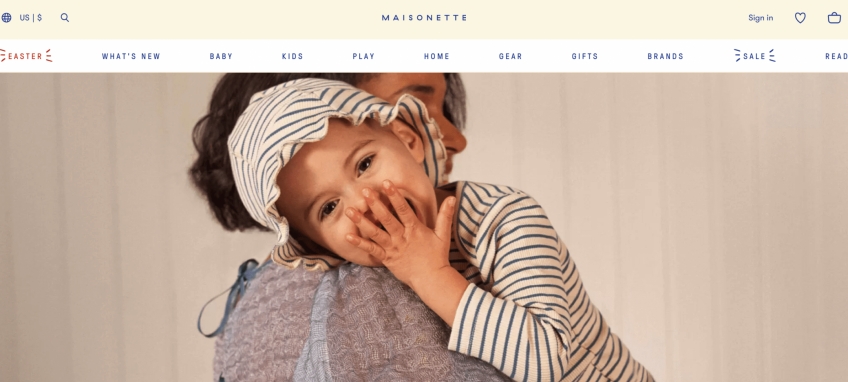 Miki Miette
Miki Miette is a relatively small children's clothing brand based in Los Angeles. They say they make comfy, fashionable styles for you and your little ones to enjoy every day. Miki Miette is also sold in boutiques and department stores around the USA, including Nordstrom.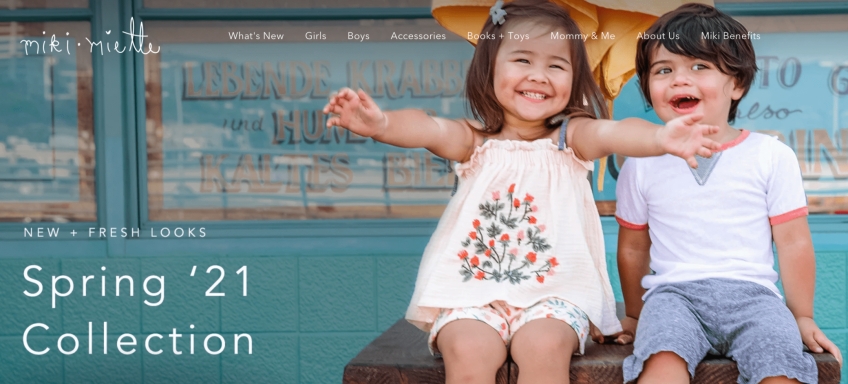 Miminoo
Want to have the same hat as your baby? Then Miminoo is the website to go to. The same goes for when you wish for animal prints on your baby clothes. Trendy, minimalist & unique brands for the modern family. Creator of the Mix & Match concept, reusable and multi-purpose accessories for little and big fashionistas!
Monica and Andy
Monica and Andy claim they make better, softer organic baby blankets and clothes. Super soft organic cotton and muslin that get softer with every wash. We confirm that Monica and Any sells trendy organic baby clothes that are one of a kind. Their specialty gift boxes come with a combination of clothes and blankets perfect for baby showers or putting together a themed nursery. Plus, who doesn't love a pair of pizza pajamas?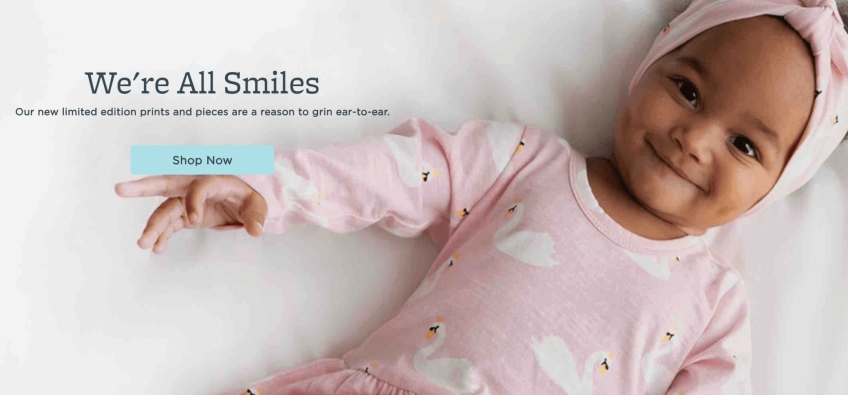 Mudpie
Quality made and full of little baby sweetness, Mudpie offers some of the cutest children's clothes you can find online. The styles are unique and embody the essence of childhood through their kid-friendly designs. Apart from the kids' clothing, mom can dress up here, too. At Mudpie, you will also find a lot of cool and trendy gifts plus an extensive home décor department. The Mudpie website is well designed, colorful, and easy to navigate.
Nautica
Want to have a little sailor? Nautica brings a fresh marine look into everyday life and offers a modern nautical style for all seasons and occasions. Offered in sizes 2T and up. Nautica clothes are colorful, playful, and well-made. And we like that Nautica supports Oceana, the largest international advocacy organization focused on ocean conservation.
Nordstrom
Nordstrom is one of the oldest and finest American retailers. With a large selection of high-quality brands and excellent customer service, Nordstrom's shopping experience will be pleasant and comfortable. Nordstrom's got you covered regarding both trends and timeless essentials from only the best brands. Nordstrom is famous for its top-notch customer service. As they offer a vast selection of styles for boys, girls, babies, toddlers, big kids, and tweens, Nordstrom makes shopping a total breeze. Nordstrom features clothing, accessories, toys, and home goods. If you're looking for a fancy look, Nordstrom is the place.
Nordstrom Rack
https://www.nordstromrack.com/
Nordstrom Rack is Nordstrom's cheaper brother, well known for its clearance sales. Nordstrom Rack's website offers fabulous deals on brand names as well as Nordstrom's own signature line. Here you will find names such as Calvin Klein, DKNY, Michael Kors, and many more for a steeply discounted price. Especially when you go with season-ending sales, some are as large as 80%! Want great prices on shoes and accessories? Nordstrom Rack got you covered, too.
The North Face
The North Face was originally the climbing equipment company, now the global outdoor clothing brand famous for their iconic parkas, worn by climbing expeditions in the world's harshest regions, including the Himalayas. Today, the North Face offers the same quality for all, including the smallest infants.
Nununu
NUNUNU is a contemporary alternative to typical baby and children's fashion. Their collections are designed from the moment the child is born and up to age 14. NUNUNU integrates high-quality fabrics, primary colors, and urban design mixed with a personal touch creating a unique and deconstructed look in all clean-minimalist design. You won't find cute teddy bears or magical fairies here. On the other hand, NUNUNU offers an extensive Star Wars collection.
OEUF
OEUF's kids' knits and accessories are 100% alpaca and certified organic Pima cotton, handmade by a co-operative of indigenous Bolivian women. Because the knits are fair trade, the artisans are paid a living wage, enabling afford healthcare and education for their children. Oeuf's knits are made from soft, luxurious Alpaca wool, which is hypoallergenic and eco-friendly. Oeuf is made with 100% organic Pima cotton, using high-quality interlock construction. It's extra-soft on newborns' gentle skin yet durable and maintains shape during the wash and wear. Each piece is made in Peru following fair trade principles.
Old Navy
"Fashion for the people." That's Old Navy's slogan. Do you want your children to dress in the latest trends and fashions without breaking your family budget? Then you will love Old Navy. Old Navy is a genuinely affordable Kid's clothing brand owned by fashion behemoth Gap. It can quickly become your one-stop-shop for everyday clothing. Old Navy is Gap's cheaper brother.
While it is affordable, Old Navy offers a wide selection of well-made clothing; basics built for everyday wear for all ages, from toddlers to teenagers, at prices that are hard to beat. At Old Navy's website, you will find everything from bodysuits for newborn baby, to coats and jackets for high school kids, including shoes and accessories.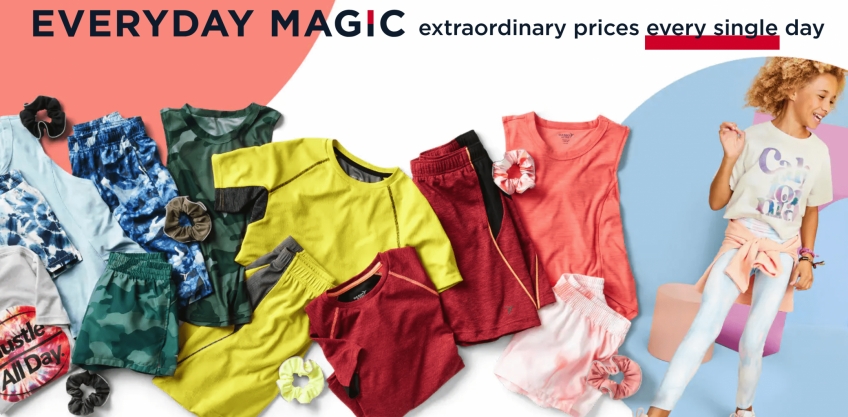 OshKosh B'Gosh
Another big name in the United States, OshKosh, is one of the best places to shop when you need to dress your child. OshKosh can be surprisingly affordable, especially if you shop during their sales events. At OshKosh B'Gosh, you can dress your child from the day she was born until 14 years of age.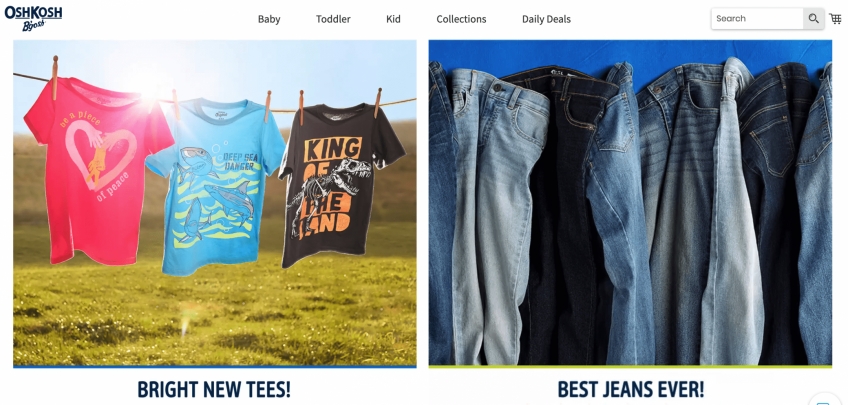 Overstock.com
Overstock.com is a great place when you look for stuff at closeout prices. They sell just about anything, children's clothing included. Overstock.com may have a quirky selection sometimes - like selling Halloween costumes in May. But Overstock.com offers reasonable closeout prices on kid's clothing, shoes, kids' bedding, toys, and everything else. Overstock can be a hit or miss. We wanted to mention it because some deals are so big that it feels like you legally robbed Overstock. It is worth checking out the CLEARANCE button; your shopping cart might fill up quickly here.
Patagonia
Patagonia is a company that markets and sells outdoor clothing and gear. Patagonia isn't cheap. The quality of materials and the fact that everything is done in an environmentally-conscious way affect the price. Still, they also are the reason why people purchase Patagonia jackets and other garments. Patagonia commits 1% of its total sales to environmental groups focused on conservation and sustainability through the organization One Percent for The Planet.
PatPat
At PatPat, you will find a wide range of items for both mom and kids. You will want to check out their baby clothes selection which is especially cute. These little bear or dinosaur outfits are way too adorable, and just an example of the sweet and one-of-a-kind finds you can purchase from Patpat.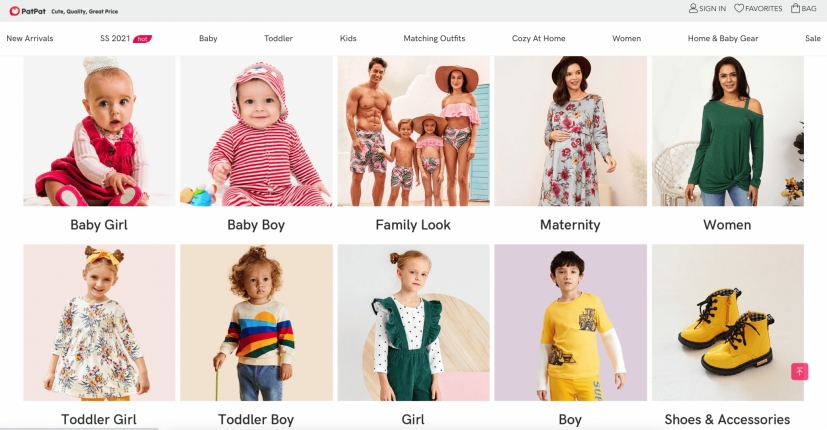 Piccolina
Girls only. Beautiful, stylish clothes that show individuality and empowerment! Picollina is all about girls. " Piccolina is a new mission-driven lifestyle brand dedicated to empowering today's young girls to become tomorrow's trailblazers and problem solvers." This is Piccolina's statement on their website. You will find strong women, like Ruth Bader, being on your girl's Shirts.
Plus, it all will be likely in vibrant and beautiful colors. Your daughter surely will make a statement with that piece! Piccolina is the brand for you and your daughter if you like to buy clothing with a mission. Also, Piccolina's stuff is manufactured by female-owned factories. The clothes feature unique designs and patterns, and the quality is good, too. Picollina sells kids clothing is in sizes 2T-14.
Pink Chicken
Pink Chicken features go-anywhere tunics, tops, and dresses for bohemian babies, their big siblings, and their stylish hippie-chic moms. It's Color. It's Pattern. It's Happy. Yes, add a necklace. Pink Chicken is an online store offering clothing for kids and their moms designed in bright colors with a lot of pinks. The website provides a great assortment of clothes and accessories filtered by type and size.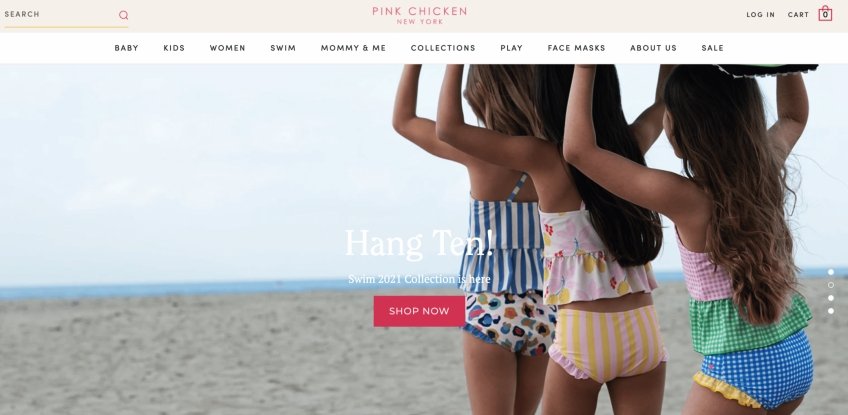 Posh Peanut
At Posh Peanut, you will find unique baby and kid's clothes for the trendy mom. Essentials Reimagined. Luxury bamboo family apparel and accessories. Remarkable children's clothing and accessories. Buttery soft materials and unique designs you won't find anywhere else! Posh Peanut also sells matching sets for mom so that you and baby will be stepping out in style. Their bright colors and attention to detail make these fun outfits worth every penny!
Primary
No slogans or sequins, just vibrant colors in timeless styles and super-soft fabrics. Primary distinguishes itself by offering high-quality children's essentials in bold colors, but none of the glitter and slogan and licensed characters that can drive you nuts. No labels and no slogans. This is what Primary stands for. The super-soft and sustainable fabrics will win you and your kid over instantly. If brand names aren't your thing, but you still want stylish kids, check out Primary.
They sell slogan-free clothes made with premium fabrics. Their colorful everyday basics are timeless and fun! So mixing and matching items is a no-brainer. Simple and classic designs that never go out of style make Primary a great one to shop with. Plus, they sell items made of organic cotton that has been environmentally sustainable and socially responsible. Primary clothes are sold at affordable prices, in sizes up to 12 years of age.
Ralph Lauren
Fancy sportcoats and pants for boys, elegant wedding-ready dresses for girls from Ralph Lauren make your kids look special. If you're going to dress them up, you may as well do it right. Defining modern luxury and timeless style since 1967, Ralph Lauren is more on the expensive side. Still, If you want to make a statement, you won't make a mistake.
REI
Do you camp, hike, paddle, run, bike, or do just any outdoor activity with your kids? Then REI is the website to check out. A member-owned co-op since 1938, REI sells leading outdoor brands like Patagonia and Columbia Sportswear, plus shoes from KEEN and Bogs. Don't forget to check out REI's outlet store at https://www.rei.com/rei-garage.
Rockets of Awesome
https://www.rocketsofawesome.com/
Rockets of Awesome used to be a subscription box service. Yes, you can still get clothes mailed to your US address provided by Shipping Storm. Nevertheless, you can now also shop individual items online. Rockets of Awesome offers cool, exclusive designs, so your kids will always look sharp. Sizes range from 2T to 14T.
Shade Critters
Insta-Worthy Swimsuits for your Little Critters. Fun and Fashionable Sun Protection from infant to adults. At Shade Critters, it's all about swimwear. They sell UPF50+ UV protective swimwear, rash guards, and sunsuits for infants, toddlers, children, and their parents. The assortment and design will genuinely impress you.
Spearmint Love
https://www.spearmintlove.com/
Shop the best brands in baby and kids' clothing and accessories. With Rylee & Cru, Mini Rodini, Oeuf, Little Unicorn, Milk Barn, and about 150 more brands, Spearmint Love is another online store worth looking at.
Schoola
For kids, it makes perfect sense to shop second-hand. They grow out of clothes so fast that sometimes they only wear an item an only few times. Schoola sells gently used clothes in perfect shape. In case you care, a portion of the proceeds goes to benefit local schools.
Target
Another Department store behemoth, in Target, you will find major brands like Levi's in sizes from babies and toddlers up to teens. But Target has its own clothing line, Cat & Jack. Cat and Jack is Target's beloved children's line by moms and kids alike. It's affordable and on-trend. The quality is fine and offers good value. And if you are looking for a good pair of Levi's jeans, Target is your store! On some sale days, a couple of kids' Levi's jeans can go for as low as $13.

Tea
https://www.teacollection.com/
Tea Collection claims they get its design inspiration from all over the world. They also pledge to offer fair and humane working conditions for the factories that manufacture their clothing and give back 10% to help children in need around the world. If this is important to you, give Tea a try. Tea's baby clothes have gorgeous blends of colors and patterns. With its quality, softness, stitching, snaps, and buttons, Tea clothing is top-notch. Their clothes last multiple lifespans, and they may be passed on to other kids after your baby outgrows them.
People often praise Tea's "quality and style," saying the garments are "well-made, durable, and soft." Customers also note how well the clothes maintained their color, feel, and fit even after multiple washes. Expect to pay a higher price - as much as $50 per garment on the high end, so Tea Collection isn't a place for a shopping spree.
T.J.Maxx
TJ Maxx stores are a gold mine for marked-down clothes, shoes, home décor, and more at up to 90% off from many well-known designers. Here you can find plenty of Carter's, Nike, or Gap items for a fraction of the cost. Your little one will be looking stylish while saving you a lot of money. Plus, it is easy to shop for the whole family while you are browsing.
TJ Maxx, together with Marshalls, form Marmaxx, the largest off-price retailer of apparel and home fashions globally. So, while there, click on the link and check our Marshall as well, and also try Sierra, which used to be Sierra Trading Post, another discount megastore owned by TJ Maxx.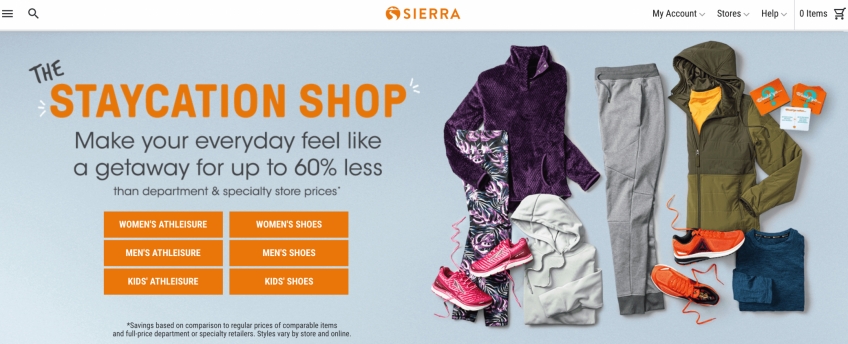 Tommy Hilfiger
American heritage with a modern edge. That's what Tommy Hilfiger claims to be. The Tommy Hilfiger Kids collection offers clothing for boys and girls and unisex kids' accessories. Tommy Hilfiger kids' collection consists of comfortable, classic pieces that last for years. The assortment ranges from back-to-school basics like sweaters and sweatshirts to particular occasion styles.
For girls, faux fur coats, puffers, and jean jackets are designed to look just like mom's styles. From holiday dresses to leggings and cardigans, there is something for every girl. Bold graphic tees remain favorites for boys and girls. For boys, best-sellers include polos, hoodies, and jeans. The Tommy Hilfiger Kids' accessories line offers everything from backpacks to baseball caps in classic Tommy logos and colors. For infants and babies, polo onesies and tiny tees made from soft-washed fabrics keep the little ones cozy. Tommy's collections also include sustainable styles such as organic cotton knits, responsibly sourced down, and outerwear filled with eco-friendly insulation.
The Tot
For some parents, sustainability comes first, and The Tot respects that. Shop the Tot's eco-friendly mama, kids, and baby products. All items have passed The Tot Test, ensuring they're healthy, safe, stylish, and innovative At the Tot, health, and safety come with style. All products are made from materials free from pesticides, toxic chemicals, dyes, and anything that may be harmful to you or your youngster. At the Tot, you can trust that all materials and ingredients in their products are safe for you and your family. The Tot sells only hand-picked products that pass their high safety standards and are designed to last.
Under Armour
Whether your kids play in kids' Little League or just need an outfit for sport class, Under Armour is your one-stop-shop for everything sporty. You can narrow your search by sports categories like field hockey, soccer, baseball, basketball, football, running, or golf.
Walmart
When shopping for children's clothing, you may not want to skip Walmart, the world's biggest company, by revenue and number of employees. At Walmart, you can buy children's clothes for any age. And yes, it's dirt cheap.
Winter Water Factory
https://www.winterwaterfactory.com/
Winter Water Factory incorporates great design, sustainability, and fair labor practices. Its baby, children, and women's clothing are made in Brooklyn, New York, to a high-quality standard. Winter Water Factory uses 100% certified organic cotton, water-based inks, and low-impact dyes for all of its clothes. They mail them to you in a recycled paper - always striving for the lowest impact on the environment. The Winter Water Factory mill and print all of the fabric in Los Angeles and cut and sew everything in their own factory in Brooklyn.
Zara
Fast fashion isn't just for grown-ups. When you want to mix up the fashion basics with trendier items, you may want to try to shop at Zara, the world's largest apparel retailer. Prices are in the lower range and offering in sizes from babies up to size 14. The website, however, is quite challenging to navigate and not very user-friendly.
Zappos
While now selling children's apparel, Zappos has been primarily a shoe retailer and offers tons of trusted shoe brands for kids in many style options for both girls and boys. When you need shoes for your kid, Zappos is definitely the place to go. The website is super user-friendly. You can narrow down your search to the slightest details. It also categories for boots, athletics shoes, sneakers, rain boots, slippers, sandals, heels, loafers, or even climbing and boat shoes. Zappos has it all.
Zappos also offers shoes in all price categories, from Quicksilver, Volcom, or Joules flip-flops, to Adidas, Puma, Sketcher, Nike or Merrell sneakers, Salomon, La Sportiva, and KEEN hiking shoes, to elusive European brands, such as Burberry, Gucci or Dolce & Gabbana. Have a kid with hard-to-fit feet? Search by width.
Zulily
Zulily is a flash sale site offering "something special every day." Because of it, inventory is limited, and because it's "flash," you need to snag your favorite deals quickly. But Zulily offers a carefully curated assortment of cute children's clothing, plus kids' shoes and some accessories. Be sure to check out their "New Today" section for the latest offer. You can save up to 70%.
Zutano
Zutano's clothing for preemies, newborns, infants, and toddlers is crafted from the softest cotton and known for its quality. Zutano's clothing offers comfort, fit, and function that ensures carefree fun. From protective sun hats to slip-on booties that actually stay on the baby's feet, Zutano covers your baby comfortably from head to toe.
Zutanos's clothes are crafted with only the most delicate natural fiber fabrics and softest cotton, so you count on high quality, easy-care, and long life. Zutano also offers stuffed animals and dolls, beanies, aprons, bibs, tights, leg warmers, and socks. Zutano's newborn bedding collection is sure to inspire your nursery ideas with infant and baby bedding, swaddling blankets, cribs, and nursery accessories.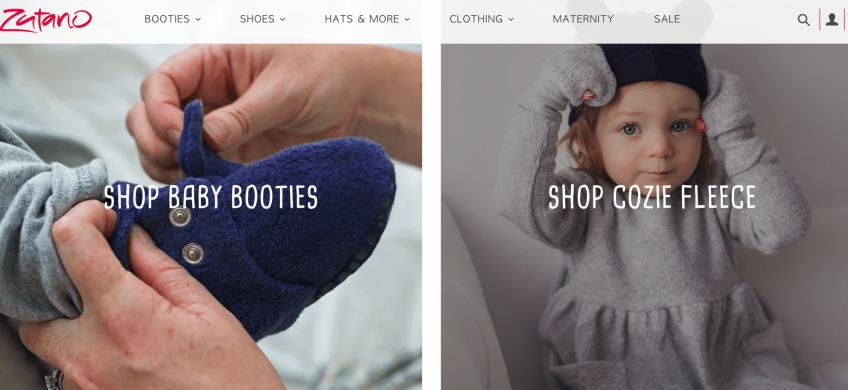 In case you need to make sure you are buying the right size for your kid, see size conversion tables.
For babies https://www.kinderzeit.org/en/european-baby-size-chart/
For kids https://www.size.ly/conversion-charts/childrens-international-size-conversion-chart
Shipping Storm has made every effort to provide the best shopping advice for our members. However, some merchants listed here may have established purchase restrictions, may not take all payment forms, or restrict purchases to certain countries. You may need VPN (Virtual Private Network) to shop on some online stores we featured in this article. Always check the merchant's site for terms of sale, shipping guidelines, or terms and conditions for more information.