Shopping and Sales
How to choose the right digital camera
December 11, 2020
Buying a digital camera can be a daunting task. Mainly because the technology now overlaps between models. Do you need a digital camera that also takes video or a video camera that also takes photos? Sure, you can even make pretty good photographs and videos with your smartphone these days. When is it worth upgrading to a specialized device to get better quality? Read this guide to learn and get the information you need to decide before buying.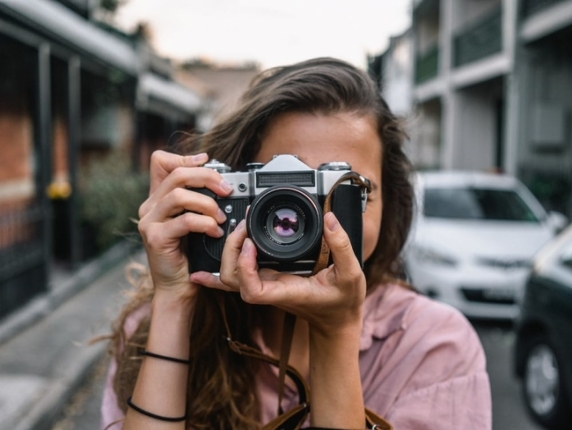 When it comes to taking still pictures, you have options: your smartphone might be just fine if you work with bright light. However, when you add some adversity to the scene, like low light, a digital camera helps you get the best quality still photos. The same goes for video. Superior footage typically requires a special video camera often dubbed with a camcorder or action camera. Somehow, the SLR cameras can take excellent quality video, too. The drawback? They can do so usually only in 30-minute intervals.
How do digital cameras work?
Digital cameras are, in many ways, similar to conventional film cameras. The main difference - they do not capture the image onto a piece of celluloid film. They focus light onto an image sensor that records electronically. They store photos as a collection of millions of tiny dots (pixels) in a digital file - usually a memory card inside the camera.
What are megapixels?
Images are made up of pixels. When you have 1 million pixels, you call it megapixel. The camera that captures 16 million pixels is called a 16-megapixel camera. It is important to remember that megapixels alone do not determine the quality of the photos you capture. The number of megapixels determines how large you can print those photos and the extend of cropping you can do before they start looking grainy or blurry. When it comes to the quality of your photos, there is much more in the game.
For general use, 10 megapixels resolution is what most people need. Look into your computer and see how big your pictures are. They will be less than ten mega, for sure. So, don't judge cameras solely on their megapixel count. The quality of the lenses takes a much greater effect on the quality of your images.
Camera Categories
Most cameras can be divided into two categories: models with fixed or attached lenses and cameras with interchangeable lenses and other accessories. Many devices, such as phones, can take pretty good photos nowadays. But suppose superior grade pictures shot in very light conditions are your primary goal. In that case, standalone cameras will probably be your choice. Here is where it starts to be interesting - and complicated. Cameras have way more versatile lenses and larger sensors than phones, which allows you more flexibility, particularly in low light. Still, almost no smartphone camera can do a decent job here.
Standard Compact Cameras
Also known as Point and Shoots cameras, compacts are small, lightweight, and easy to use because most don't have any or very few manual controls to adjust exposure or focus by hand. They are fully automatic; some offer manual exposure options. They usually have a zoom lens (4-10x), a built-in flash, and an LCD screen on the back. Prices typically start from around $80 and can go up to over $400 for the high-end versions. The more expensive ones include additional features such as HD video recording, image stabilization, and sometimes Wi-Fi connectivity. They are the best for everyday events like family gatherings when all you need to save memories.
Advanced point-and-shoot cameras are the lightest advanced cameras out there. Moreover, many allow you to add an external flash for low light conditions. Unlike basic point-and-shoots, they also feature more manual controls. For example, manual focus, which lets you entirely control the focus. These models are a great choice if you want the ease of use of a point-and-shoot but some versatility and control of the advanced camera.
Zoom Compact Cameras
Zoom compacts benefit from a more powerful zoom lens, as high as 30x. They are a little more robust and larger in size than standard compacts. Most zoom compacts have some manual exposure options and offer HD video recording. They start at a slightly higher price of around $150 with luxury models over $500. Some will provide additional features, such as GPS for automatic geotagging, which is excellent for traveling.
Advanced Compact Cameras
Advanced point-and-shoot cameras are the lightest advanced cameras available. They feature more manual controls. For example, manual focus, which lets you entirely control the focus. With other options such as manual exposure mode and manual focusing features, optical viewfinders, and external flash connections, these models are a great choice if you are a more experienced photographer and require more versatility, quality, and innovative features. Prices can range from $400 to more than $700 for cameras with smaller sensors. Those with larger sensors go for $700 - $1000.
Adventure Cameras
Adventure cameras are compact cameras designed to withstand the elements of nature. They're waterproof, shockproof, and some recent models are even freeze-proof. They can also survive if you drop them on the rock. It may have some limited manual exposure options and zoom closer to the standard compact behind toughened glass. Most include GPS features for geotagging the location of your photos. These models have lenses that don't come out of the camera's body and are not interchangeable. These cameras are perfect for shooting photos and videos underwater or on the slopes. The price starts around $120. More advanced models can cost about $500.
Super Zoom Cameras
Super-zoom cameras have were meant as the stepping stone between compact cameras and DSLRs. But with the advances in compact cameras, more and more people now prefer super-zooms. They tend to be fairly large with an SLR type body. With hand grips and an electronic viewfinder, they offer powerful zoom lenses and image stabilization. Some have HD video recording and a set of manual exposure options. Prices vary from around $250 to $700 or more for advanced models.
Mirrorless cameras
Mirrorless cameras have many advantages as large ones, like, for instance, the interchangeable lenses, which means far greater control than standard compact cameras, but are smaller and lighter than SLR. For that reason, you may choose them as a high-end travel camera. They have most of the features and capabilities of SLR cameras. Yet they are more lightweight, smaller, and generally less expensive. These cameras are a great option if you are a hobby photographer who wants to extend your photos' control but does not want the hassle of carrying heavy sets of full sizes lenses with you. They have a large image sensor, but they don't have the mirror as a large one, as the name implies. Because of that, they also lack through the lens viewfinder some photographers prefer. Instead, most include high-quality electronic viewfinders, which show you a digital reproduction of the senior shooting. You may expect to pay anywhere from $250 to $3,500.
Single-lens cameras
SLR stands for single-lens reflex. A single lens means the image you see through the eyepiece is a reflected image of the shooting. Reflex reverses the image, which is bounced off the mirror. When you press the shutter, the mirror flips up, and the camera captures the image on the sensor.
These cameras are larger and heavier compared to all types mentioned so far. All SLRs cameras use interchangeable lenses and have large sensors. The larger is the image sensor; the shallower is the depth of field. Most SLRs have manual controls, such as an exposure compensation dial to let you quickly brighten or darken the scene. They allow more creative photos, such as focusing on a subject and blurring in the background.
They likely will be your choice if you want high image quality, an array of creative options, and overall outstanding performance. SLR offers superb image quality, allows you to use interchangeable lenses, and has plenty of manual controls. It will get handy, especially when you will be shooting fast-moving events such as sports. Most DLSRs use a sensor size called APS-C, but the top-end models will have a full-frame sensor with the same size as a 35mm film. The full-frame sensor allows the camera to capture both bright highlights and dark details in the same image more accurately. SLR cameras range in price from $400 to $3,000, and we are talking about the body only. Lenses are extra.
Medium Format Cameras
These are the Rolls Royce of the camera world. If a full-frame DSLR isn't good enough for you, then the next step is a medium format camera. These benefit from even bigger sensors than the full-frame DSLRs, which in turn means higher image resolution (60 megapixels), but they also come with a hefty price tag. For example, the Hasselblad H5D-200cMS with a standard lens could cost over $50,000!
Action cameras
Think GoPro or some more-affordable alternative. Action cams are designed primarily for people who like outdoor sports and activities such as jet skiing and snowboarding and who want to capture hands-free video. They cost from about $100 to $600. Because they are so light and compact, they may lack features like a viewfinder or an LCD.
All action cameras are waterproof. The best part of the action cams is that you can attach them almost anywhere: handlebars, a helmet, and even a drone. There is a robust accessory ecosystem filled with all kinds of mounts and straps to make that possible. An action camera has simple one-touch controls and even Wi-Fi, so you can control the camera from your smartphone when your hands are busy.
Digital Camera Specifications
Most cameras nowadays have a digital display — the screen at the back of the camera lets you frame and review your photos. Some even have touchscreens like those on a smartphone. Some more advanced cameras also have a viewfinder to frame your shot. The feature can help you shoot in bright light when you can't see your display's image.
Flash is available in almost every digital camera to help illuminate the subject. There are two main types of flash used with cameras: a built-in flash, which is on board or pops up, and an external flash, which is a separate piece of equipment and fits into a camera's connector. The external flash provides a lot more light than a built-in flash and lets you illuminate a greater area from a longer distance.
There are two types of zoom lenses: optical and digital. Optical zoom is a real zoom feature because it uses the moving lenses of the camera. This feature allows you to bring the subject closer without losing image quality. Almost every single camera uses an optical zoom. Digital zoom only makes an image seem closer, magnifying the frame's center without increasing picture detail. You almost always lose image quality using it. Digital zoom works the same way as on smartphones. If it is an optional feature on your point-and-shoot, you should instead disable it.
Image stabilization helps you with shaky hands and enables you to capture sharp images even when you are using slow shutter speed. The two best types of image stabilization are optical and mechanical. The visual version takes place in the lens, while the mechanical version is in the camera body. The image stabilization can make a big difference in the sharpness of photos, especially if your camera has an optical zoom greater than three times.
Nearly all still cameras these days can shoot HD video. Some can also capture Ultra HD or 4K video, which has a higher resolution: four times the number of regular high-definition video pixels. You will need an ultra-high-definition TV to take full advantage of 4K. One convenient video feature now found on many cameras is a dedicated video button. So, you can quickly switch between still images and video. Are you taking many videos? Buy a larger capacity memory card to store it.
ISO is a term that historically referred to film speed. On today's digital cameras, it means the sensitivity of your camera sensor. For instance, when shooting in darker settings, pick a higher ISO. It will brighten up your shoots. When shooting in bright scenes, use a lower ISO. Remember that by choosing a high ISO like anything over 2500, you could see more image noise in your photos like straight colored dots or pixels.
Shooting modes. Most cameras have three options for shooting still images: the standard single-image mode, burst mode, and self-timer mode. With the press of a button, burst mode takes a rapid-fire shot right in a row. Some advanced models can shoot more than 100 images in a burst. So, if you are shooting a baseball game, you have a much better chance of capturing the exact moment that hits the ball if you are using a burst mode.
As the name implies, self-timer mode gives you a delay between pushing the shutter button and the moment the camera captures the photo. Some cameras let you set the length of the timer yourself and the number of shots you can take.
Storage and transfer. Instead of film, digital cameras, camcorders, and action cameras store your images on a flash memory card. SD, which stands for secure digital, is the most common format. Others include compact flash used mostly with SLR cameras or microSD cards, which are often used in smartphones. Some cameras can hold higher capacity SD cards such as SDHC and SDXC models, storing several terabytes of memory. Some cameras can accept more than one type of card, so check your manual.
When you want to get your photos and videos into your computer, you have many options. You can transfer media using a cable as a USB or HDMI. Since so many cameras have Wi-Fi, you can share them wirelessly to your computer, smartphone, or even directly to a printer. You can insert the memory card into your computer or card reader device that attaches to your computer to read memory cards. Some printers also have a card slot. You can print photos directly, without a computer.
The digital cameras and camcorders are pretty reliable, so it is not worth spending the money to buy an extended warranty.
What to check when buying the camera
It will be a good idea to come into the brick-and-mortar store and check whether you like the chosen model and how it lies in your arms. What should you keep in mind?
The weight and size
First, you should decide how you will be using the camera. Will you take it on the trips? Are you going to make professional-looking, high-quality pictures? How often are you going to take the camera with you? Where will you use the camera?
The controls, buttons, and display
Do you like their position on the camera? Are they big and convenient or relatively small? Does the camera have a touchscreen display, or is that the traditional one? How much do you have to press to choose some features? You better check all these things in the store before you buy, not to regret your purchase.
Great 5 cameras to buy right now
There are a great many excellent cameras you can buy today. We have chosen only a few, which we like, but you should do your thorough research before making a purchase. A digital camera will last you many years to come, so make sure you choose wisely.
Nikon D850
Nikon D850 has a lot to offer, has features, and will provide you with excellent quality photos. It combines high resolution and speed. D850 is equipped with an FX-format backside illumination CMOS sensor. ISO range from 64 to 25,600. It gives superb image quality in diverse situations. 0.75 large optical viewfinder lets you concentrate on shooting. The 153-points autofocus system gives you reliable focus. Full frame 4K UHD video takes full advantage of wide-angle lenses even in low light. You can use superb high-definition Nikkor lenses. The broad lineup gets the most out of 45.7 MP. SB-5000 Speedlight offers a radio-controlled flash. High-speed data read/write compatible with UHS-II and XQD memory cards. Smooth and comfortable operation with touch-operable, tilting, 8 cm monitor. The RAW size S/M/L significantly improves workflow flexibility. RAW batch processing streamlines 8K time-lapse movie production. One of the best cameras you can get, in our humble opinion.
Fujifilm X100F
The X100F is a fixed lens camera. It features a 24-megapixel sensor. Casual shooters and advanced amateurs will appreciate the revamped hybrid autofocus system with a larger phase detection autofocus area, extended range of film simulation modes, and improved ergonomics. The x100f features a sharp, fast 23mm f/2 lens and hybrid electronic viewfinder. However, the enhanced image sensor results in more detail and still images and video. The x100f also gains a third customizable control dial on the front of the body. The autofocus joystick on the back of the camera makes it easy to select from 91 available autofocus points. Overall, the X100F takes some of Fujifilm's latest imaging technology and puts it in a classically styled camera body with excellent ergonomics and control.
Sony Alpha a6000
Alpha a6000 is a highly compact and enthusiast-focused mirrorless camera. Equipped with a resolution 24 megapixels APS-C CMOS sensor and impressively broad feature set, shooting with this Sony is a real joy. The camera standout feature is its hybrid autofocus system, enabling highly accurate subject tracking and a very high frame rate. The Alpha a6000 has a 70-200mm f/4 zoom, ISO range of 100-25600 (it is possible to expand it to 51200), 3-inch LCD, and OLED electronic viewfinder covering 100% of the picture taken. Professionals are often using this model.
Canon EOS Rebel T7i
The Rebel T7i has an optical viewfinder that lets you see exactly what the lens sees. Equipped with a 24.2MP APS-C CMOS sensor, convenient 45-point all cross-type autofocus system, the optical viewfinder helps ensure you can quickly get a subject in focus, regardless of its movement or where it is in the frame. It can shoot highly professional photos, and video supports Full HD video recording at 60fps. It also supports external microphones. The Built-in Wi-Fi module will let you transfer all the files to the computer with ease.
Olympus TG-5
Some tough, rugged piece designed for adrenaline junkies who want to capture fast action under extreme conditions. The Olympus TG-5 is waterproof to a depth of 50 feet, shockproof to drop from a height of 2 meters, crushproof, freeze-proof, and dustproof, which means that you can take it pretty much anywhere with you without worrying about damage. It has a 12-megapixel sensor with a flexible 25-100mm equivalent zoom lens. TG-5 features a dual-layer lens cover to reduce the risk of fogging in response to temperature or humidity changes. You can also capture location, pressure, compass heading, and temperature data to help tell the biggest story of your adventures. Built-in Wi-Fi allows all the data to be sent to your smartphone too. As well as stills, the TG-5 can shoot 4K video or 120 FPS 1080p if you want a slow-motion effect. Overall, the TG-5 is a rugged and capable companion for all those times you would not usually be able to take your "other" camera with you.
Canon EOS 80D
Canon EOS 80D is an enthusiast-level DSLR, an excellent option if you are new to photography but still want to buy a high-end device. Its Autofocus 45-point hybrid AF system is quick and efficient and works like a breeze with Live view. Ergonomically designed, easy to handle. It features a new 24MP APS-C CMOS sensor, which offers a Dual Pixel on-sensor phase-detection autofocus system.
Featuring a body sealed against dust and moisture, the 80D has a polycarbonate exterior and magnesium alloy chassis. The majority of controls are accessible via the articulating rear touchscreen and via physical control points. Video is a significant part of the 80D's total package. While it cannot shoot 4K, it does offer 1080/60p capture and continuous autofocus during video. A headphone socket has been added to complement its microphone port.
Camcorders
When we say the word camcorder, you might recall huge plastic brick to insert full-size VHS tape. However, times have changed, and many of today's digital camcorders can fit in the palm of your hand and weigh as little as 200 grams. They mostly have at least the 10x optical zoom lens. HD camcorders range from about $200 to $700, with some 4K models selling for over $1,000.
Many features available on HD camcorders are very similar to those of digital cameras. Today, many cameras as capable of shooting pretty good video, too. The main difference between cameras and camcorders is a form factor or shape. For instance, cameras are ergonomically designed for you to take the best still pictures. Camcorders and some action cameras are shaped to provide a more comfortable grip while shooting video. The same applies to the placement of the video record button, flip-out LCD panel, and the optical zoom features. Camcorders are an excellent option if you plan to take much video in long stretches, and you do not want to log around a bulky SLR.