Shopping and Sales
What to buy on sale in December
December 10, 2020
December is one of the very best months to shop almost anything you want on sale. Here we compiled a list of products that historically tend to reach their deepest discounts this December. Those include popular gift items like tablets, laptops, mobile phones, cameras, or headphones.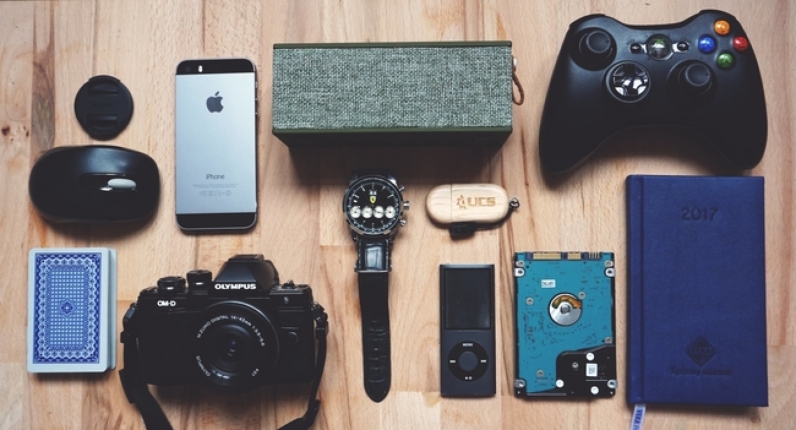 We don't expect you to shop in the USA for bigger and heavier items like snow blowers, TVs, printers, or vacuum cleaners. Thus, we won't mention them in this article in detail, but only list them at the end of this article. If you want to see more of what gets deeply discounted the rest of the year, check out our calendar of deals.
Laptops
Laptops are always popular gifts. This year, with the pandemic and thus, more people working and learning from home, these items are high on wish lists. But unfortunately, due to higher demand, there may not be quite as many on sale, and the discounts may not be as deep. Sadly, this year, the Coronavirus pandemic has created an increased demand for computers resulting in less availability and fewer sales than "normal" years. Nevertheless, you will still find discounts on select models.
Tablets
Just like laptops, tablets are also on sale in December. When buying the best tablet for you or your loved ones, think about how the tablet will be used. For watching videos or photo editing, opt for something with a larger, higher-resolution screen. For tasks like playing games and just surfing the Internet, you won't have to spend much. You may also consider the battery life, storage size (and its expansion options), size, weight, and processor power. Here are two recommended tablets this December.
Microsoft 12.3-Inch Surface Pro 7
This model was great when released about a year ago, and now it's an even better value at a discounted price. It's a 2-in-1 detachable, so you can separate the touchscreen display from the keyboard and use it as a tablet. The specs are decent - Intel Core i5 processor, 8GB of memory, and 128GB of solid-state storage. It should be enough for most people and everyday tasks like surfing the web, working on Office documents, and even editing photos.
Samsung Galaxy Tab A
This tablet is a good deal even without the discount. When released, it originally cost $350. It offers a bright display, 128 GB of storage, decent battery life, and the power to handle everyday tasks.
Headphones
Another popular gift is the headphones. And you indeed can find great deals on headphones just before Christmas. They are popular with international shoppers, too. Headphones are lightweight, thus cheap to mail internationally, making them an ideal item to buy in the USA wherever in the world you might live. Whether you're looking for a lightweight, truly wireless earbuds or a comfy pair of over-ear headphones that offer superb noise cancellation, you'll find the deal. Research different models to ensure that the pair you buy will have the features you're looking for. Here are a few deals you can get right now. They do rank well in tests, too.
Apple Airpods Pro True Wireless Earbuds
The AirPods Pro adds active noise cancellation to Apple's ever-popular line. That's not the only upgrade - they are said to have much better sound quality than their predecessors. As the AirPods Pro doesn't go on sale very often, this year's offer is a truly great deal.
Beats Studio3 Over-Ear Noise Canceling Headphones
The Beats Studio3 delivers way above-average sound quality and super noise cancellation. Their usual price is about $350, so they typically don't make most people lists of the first choice. Some cheaper models perform just as well or better. However, for the price of just under $200, Studio3 may be worth every penny.
Sony WF-1000XM3 True Wireless Earbuds
The 1000XM3 headphones are a wildly popular noise-canceling model from Sony. They offer above-the average audio quality. They also perform well in blocking out unwanted sounds. They feature touch controls, adjustable noise cancellation levels, pretty good battery life, and few other cool features. At this price, they're the right choice.
Sony WH-910N Over-Ear Headphones
The H910N earns high ratings for sound quality and noise cancellation. It comes with a list of appealing features. You get a function to automatically let in more or less outside noise depending on your environment, touch controls for volume, skipping tracks, and much more. It also has a quick-charging feature and a 35-hour battery life.
Wireless and Bluetooth Speakers
Similar to most items on this list, wireless speakers make a great gift. That is why retailers roll out discounts on them this time of year. Bluetooth speakers can range anywhere from $20 to $800, which is pretty wild. But they differ, too. Some are waterproof; some have a longer Bluetooth range or better battery life. Some offer features such as Amazon Alexa compatibility. They differ in sound quality, too. So if you like to listen to a good quality sound, better spend a bit more.
Edifier R2000DB Speaker Set
The R2000DB are stereo Bluetooth speakers offering excellent sound and pretty good value for your money. You may want to buy those even when they're not on sale. They play particularly well bass and mid-range sounds. If you're going to spend more and get even better sound quality, consider the Edifier S1000MKII, also on sale this December.
Ultimate Ears Megaboom 3
Megaboom 3 is the right choice if you want to have fun outdoors. It's colorful and waterproof, with large buttons. It's larger than most portable Bluetooth models, but that size is worth it because it gives you good bass sound and more than enough volume.
Digital cameras
Cameras have become something of a luxury. Nowadays, most people now are okay with their phones when it comes to taking photos. But phones don't beat a good camera, so if you want really great pictures, a good camera is a must-have. It's a good idea first to decide how much you want or can afford to spend. Cameras range from a couple of hundreds to thousands of dollars. You'll also need to choose the type of camera you want. Choosing the right camera is a daunting task. You can read out the article about digital cameras for more information on this topic. A simple point-and-shoot camera can serve you well. But if you may want or need something much more powerful, you will probably choose a digital single-lens reflex (DSLR), model. With that, you'll capture the best photographs.
Cellular Phones
If your smartphone isn't that cool, you may want to get a newer model. Yes, December could be the time to find a recent model at a nice discount. Black Friday and Cyber Monday are gone, but deals on phones will last through the whole of December as Christmas sales.
Fitness trackers
Owning one of the best fitness trackers may give you extra incentive to get active. The fitness tracker will provide you with a wealth of statistics on your workouts and general health, so you will have the data you need to achieve your fitness goals. There are so many fitness trackers on the market. It can first be daunting knowing where to begin, so we've rounded up the top options we'd recommend to understand your health better. Whether you want to track your runs, monitor your sleep patterns or stress levels, there's a fitness tracker to help you.
Fitbit Charge 4
Although the Fitbit Charge 4 looks nearly identical to the older Charge 3 model, there's one significant difference; the newer model supports onboard GPS, so you can track your runs while leaving your phone at home. There's also support Fitbit Pay for contactless payments. With the phone on you, you can also control your Spotify playlist on them. It also has Active Zone Minutes. This new feature measures any activity faster than a brisk walk. It's basically a simple type of heart rate monitoring. It encourages you to spend time at different physical exercise levels based on your age and fitness level. The Fitbit Charge 4 offers only a black-and-white screen, but its icons and menus are easy to read and understand. The weather forecast, sleep tracking, or breathing exercises, all it's always only a few swipes away. Slim, neat, and packed with many cool features, the Fitbit Charge 4 is somewhere between activity bands and serious running watches. It may be the best fitness tracker for everyone, maybe apart from serious athletes.
Garmin Vivosmart 4
When it comes to health bands, you'll probably find no better than this highest-ranking Garmin. This gadget isn't meant for serious athletes like some other products from Garmin. , but rather for people who want to track some exercise and wear an attractive band. The screen is more prominent than other Garmin products. It has a battery that should that lasts you around a week, depending on how much exercise you're doing. One of the coolest features is called the body battery. It tells you when exactly is the best time to exercise, depending on how much energy you have. This is great for those interested in their recovery and general wellbeing, rather than just clocking up the miles.
Huawei Band 3 Pro
One of the best fitness trackers if you're on a small budget. But it has impressive features, considering how little it costs. The Huawei Band 3 Pro comes with GPS onboard. It's water-resistant so that you can take it swimming. And there's a 0.95-inch color screen to display all of your stats. The heart rate monitor is precise. The GPS could be quicker but is accurate. Truly affordable entry-level device for your entry into the world of fitness tracking.H3 Honor Band 5 One of the cheapest options among fitness trackers, the Honor Band 5 is an enormous improvement from the Band 4. It has improved fitness features in many areas, as well as a color touchscreen. Sleep tracking gives you the advice to maximize your sleep time, as well as merely monitoring it like many more expensive fitness trackers.
Smart speakers
Do you want to use your voice to play music, turn on lights, or check the weather? Then a smart speaker is for you. Compare sound quality, voice assistance platform, and ease of use to help you decide on the best fit for your home.
Smartwatches
December is also the best time to find a new smartwatch. There are plenty of brands and models with high-tech features, such as step-tracking, heart-rate monitoring, or voice-command capability. Smartwatches, too, like computers and smartphones, run on different operating systems. Make sure to check to see which ones are running the smartwatch you want for yourself.
Apple Watch SE
The Apple Watch SE is the best smartwatch you can buy nowadays, but you must also own an iPhone. You may wonder why we do not recommend the Apple Watch 6 as the very best smartwatch? That's because the Apple Watch SE does almost everything, but for a much lower price. The Apple Watch SE comes with some top-end specs, a high-end design, and a great range of features that you can't get on every other smartwatch right now. The battery life isn't the best on the market, and there isn't an always-on display. Still, if you're after a great value for money choice for your next wrist companion, you should opt for the Apple Watch SE.
Samsung Galaxy Watch 3
If you own an Android phone, the best you can get now is the Galaxy Watch 3 from Samsung. Since it works with an iPhone as well, this device may be the best you can put on your wrist. It's a continuation of the Galaxy Watch from 2018, and it keeps a lot of that device's design elements. This year's model is, however, a step up. The features were neatly refined. The Galaxy Watch 3 features a unique rotating bezel that makes using this smartwatch a glee. It's a lot easier than using the display, something you have to do on most other smartwatches. Apps available on the Galaxy Watch 3this are more limited than Wear OS or watchOS - two rival smartwatch operating systems. But it still offers the basics, and it's pretty good at fitness and sport. Overall, the Samsung Galaxy Watch 3 is the right choice if you're looking for a smartwatch to track your fitness and look good on your wrist.
Fitbit Versa 3
Don't want Samsung or Apple? The Fitbit Versa 3 may be your preferred choice then. This latest smartwatch from Fitbit is one of the best watches for those who focus on fitness features. There's a built-in GPS. The display is easy to view and provides a crisp image. Just remember, Fitbit mostly focuses on fitness, so unless this is important for you, maybe it's not for you. But for the general audience, the Fitbit Versa 3 is an excellent option. It's also cheaper than some of the other options.
What other Products on Deep Discount in December?
In addition to the products listed above, many others are on sale in December. If you want a complete list, here we are:
Printers
Vacuum Cleaners
Bike helmets
Blenders
Blu-ray players
Carpet cleaners
Coffee makers
Cookware
Cordless drills
Cordless phones
Ellipticals
Fitness trackers
Food processors and choppers
Home security cameras
Humidifiers
Microwave ovens
Multi-cookers
Snowblowers
Soundbars
Steam mops
Televisions
Thermostats
Toasters and toaster ovens
Treadmills
Sign up FREE now
It's free, fast, and easy. Start shopping in the USA today.